China Labour Bulletin is quoted in the following articles. Copyright remains with the original publisher.
Media accuse alleged trafficker of sending workers to factory with no pay, inadequate food and dire living conditions
Tania Branigan in Beijing
14 December 2010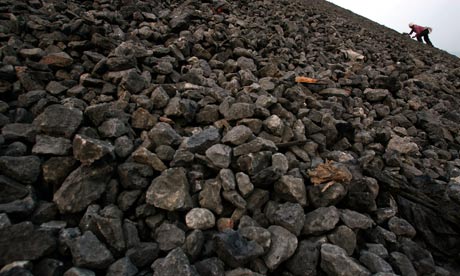 An alleged trafficker sold workers with learning disabilities as slave labour to a factory grinding rocks into powder for building materials, Chinese media claimed today.
14 December 2010
Beijing - Police in south-western China have arrested the manager of a private shelter for the homeless on charges of selling residents, some of whom were mentally disabled, as forced labourers at a remote factory, state media said on Tuesday.
Zeng Lingquan was arrested on Monday for allegedly selling 11 residents of his centre in Quxian county, Sichuan province, to the Jiaersi Green Construction Material Chemical Factory in the far western region of Xinjiang, state media said.
Police began investigating after the Xinjiang Metropolitan News visited the factory to check a report that the factory was using mentally disabled workers.
The factory owner, Li Xinglin, who thought he was being interviewed for a story on pollution, told the newspaper his workers were from the unlicensed centre in Quxian county.
Zeng had opened the centre as a shelter for beggars. It was known locally as a 'disabled self-reliance group' and acted as an 'adoption agency' for physically and mentally disabled people, the official Xinhua news agency quoted officials as saying.
Police were still hunting Li after he fled the factory on Sunday with about 12 of his workers. Li's wife was in police custody, the agency said.
The newspaper said it believed eight of the 11 unpaid workers it met at the factory were mentally disabled.
Police had investigated Zeng in 2007 for suspected human trafficking in connection with the death of a beggar who was sold to a brick kiln in the central province of Hunan, other reports said.
State media have reported several other cases of forced labour since the government promised a crackdown after a scandal in 2007 involving the enslavement and maltreatment of more than 1,000 beggars and mentally disabled people at brick kilns in the northern province of Shanxi.
The Yangtze Evening News last month reported the case of Yuan Hongping, a mentally ill man who was a forced labourer in the south-western province of Yunnan for 12 years until he was freed in October.
In January, Shanghai-based Dragon Television said mentally disabled forced labourers were still working at brick kilns in the central province of Hubei for just 208 yuan (30 dollars) a year.
In a 2008 report on slave labour in China, the Hong Kong-based
China Labour Bulletin
said 'very little' had changed since the 2007 scandal.
There was 'still a strong demand for forced labour in China, and a well-established and powerful network capable of delivering it,' the report said.
'It seems the government lacks either the political will, or the administrative ability, to control and eradicate the problem of forced labour,' it said.